Available Guinea Pigs
Up to date as of April 24th, 2017
We expect to have more babies in the late spring and summer of 2017 so let us know if you would like to be added to our waiting list. Featured colors/patterns expected include solid black, black and white, roan, red and white, and tortoiseshell with white.
Baby Skinny Boars
Our young boars are usually socialized together and would do well living together in most any combination!
Alfie (Reserved for Heather in AL)
Tortoiseshell white - Winston x Miss Marion. Born 02/28/2017. Alfie is a beautiful tri-colored skinny pig who is buddies with Tulare.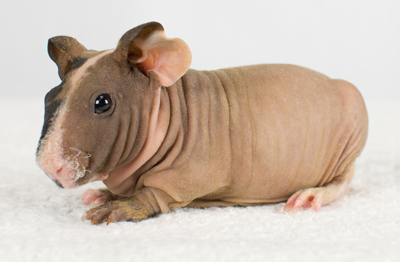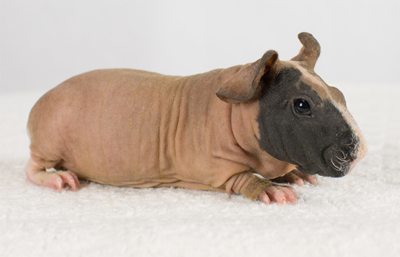 Tulare (Working off Waitlist)
Broken silver solid and white - Mr. Black x Coral. Born 03/15/2017. Tulare has mostly black skin with a a little white on his back half. His silver ticking is coming in around his ears. He is buddies with Alfie.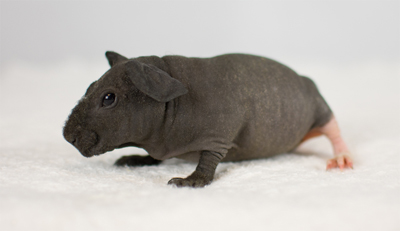 Baby Skinny Sows
More babies coming soon!
Other Guinea Pigs
Occasionally we have available carriers and adult skinny pigs looking for homes. Guinea pigs are happiest in groups of two or more, and we always prefer to place our babies with a same sex buddy if possible.
We don't have any other guinea pigs available right now, but more babies will be coming soon!
Reserve Now!
The fastest way to place a reserve is through Paypal. To reserve using check, money order or other method, please e-mail us.