Available Guinea Pigs
Updated as of June 23rd, 2020!
Before inquiring about our babies, please make sure to check out our Sales Policy and let us know if you have any questions about it. We require a 50% non-refundable deposit to hold and deliver any babies to you.
Let us know if you would like to be added to our waiting list. Featured colors/patterns expected include black and white, red and white, and tortoiseshell with white.
Baby Boars
Many of our baby boars are available in bonded pairs right now.
Sutton (Available: $150)
Dalmatan. Born 12/23/2019. Sutton is a super furry werewolf skinny pig with amazing spots! (Limited pedigree)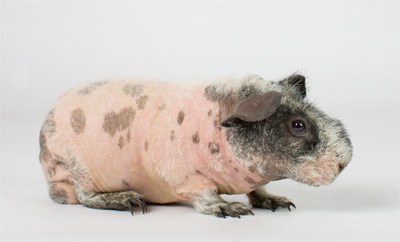 Nigel & Marion (Reserved for Mari in Kagawa)
Dalmatians (black and white) - Sammy x Sparkles, Eli x Mercury. Born 05-22-2019 and 06-16-2019. These two boys have beautiful coloration and are bonded buddies. They must stay together.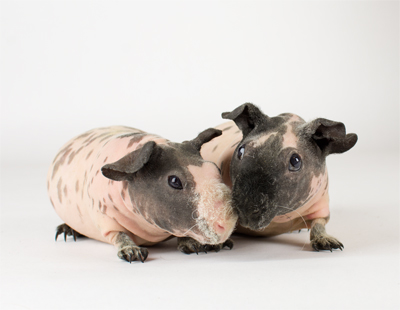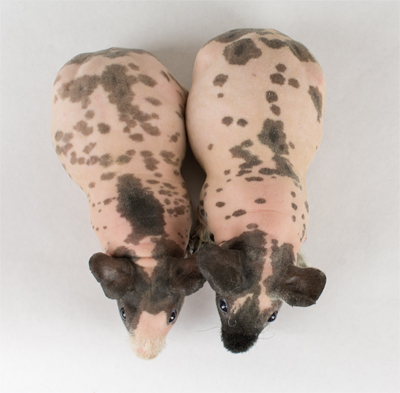 Butterbeer & Buddy (Available: $150 pair)
Broken lilac & white - Nama x Patches (born 02-28-2020).Butterbeer is an attractive peach color with ruby eyes. Butterbeer is lightly werewolf, with some extra fur. Buddy is a Dalmatian skinny carrier and has a super calm and sweet personality.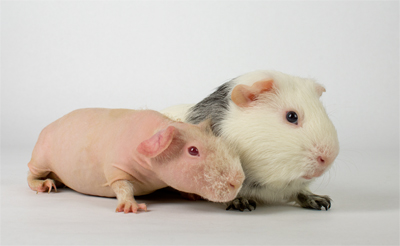 Goat (Available: $150)
Self black - Gretchen x Chips Ahoy. Born 01-26-2020. Goat is a cute boy who is probably also a werewolf. He is not very fuzzy in these photos but he *may* grow extra fur on his neck and shoulders as he grows older. He is paired with one of my furry piggy boys (sable color).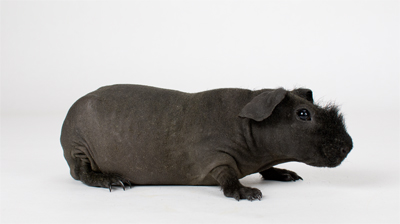 Aramis (Available: $150)
Aramis is black roan - Hershey x Sammy. Born 07-15-2019. His two brothers have gone to their new home and Aramis has been paired up with a furry baby boy piggy. Pictures coming soon!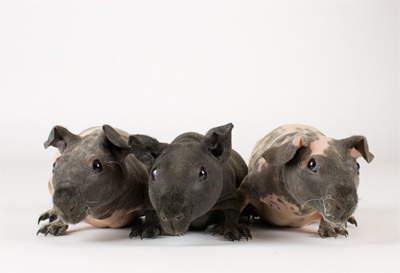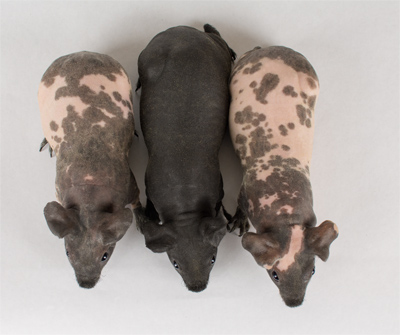 Baby Sows
Our girls are socialized in small groups. Their BFFs are noted below.
Peachy (Reserved for Amanda T in MT)
Broken dark-eyed cream and white - Mont Blanc x Patches. Born 01/22/2020. Peachy is a pretty girl with a good mix of pale cream and pink skin. She is friends with Sweet Ann, Nan and Smoky Dun.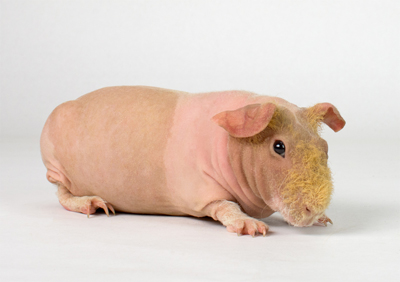 Tristessa (Reserved for Amanda T in MT)
Dalmatian - Nadia x Chips Ahoy. Born 03/28/2020. Tristessa is a pretty girl with some big and little spots on her perfect pink skin.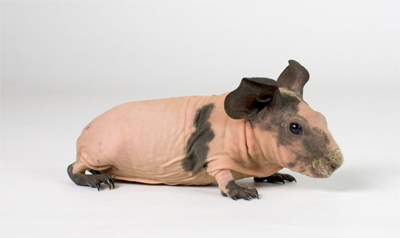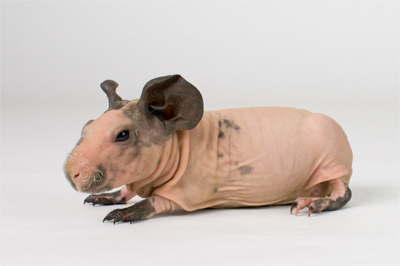 Sweet Ann (Available: $150)
Dalmatian (black and white) - Somni/Magnolia* x Baby G. Born 12/23/2019. Sweet Ann is a lovely lady with dark color on her face and feet and just a couple of Dalmatian spots. She is friends with Smoky Dun, Nan and Peachy. *Somni and Magnolia had their babies at the same time and I'm not sure exactly which one is her mom!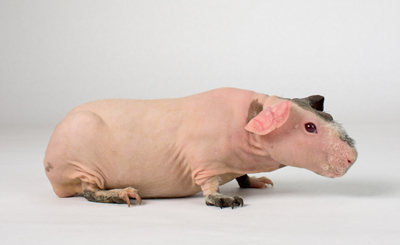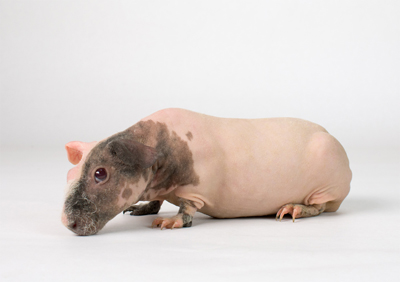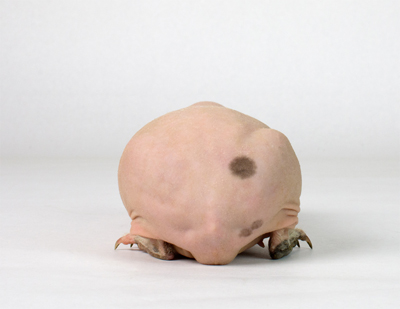 Other Guinea Pigs
Occasionally we have available carriers and adult skinny pigs looking for homes. Guinea pigs are happiest in groups of two or more, and we always prefer to place our babies with a same sex buddy if possible. Our older or retired guinea pigs are incredibly sweet piggies. Adoption costs on retired or older piggies will be donated by Santa Barbara Skinny Pigs to one of our local animal non-profits (guinea pig or wildlife rescue).
Boars
Xellos (Available, $150 pair with Coors)
Broken red and white - Nama x Chibitaro. Born 09/22/2018. Xellos is a beautiful boy with a super furry face. He is buddies with Coors and their adoption fee will be donated to a local animal non-profit.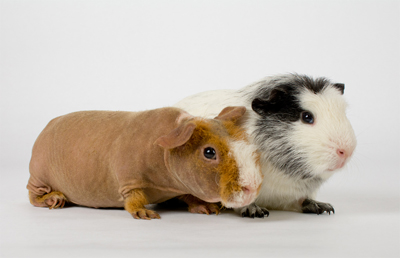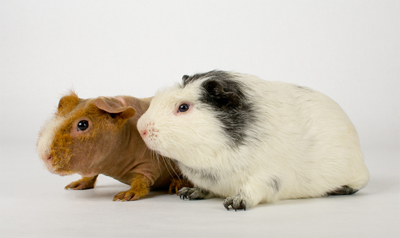 Sows
None available at this time.
Reserve Now!
The fastest way to place a reserve is through Paypal. To reserve using check, money order or other method, please e-mail us.